39 photos
Chantier: Mistral (France) Designer: Bruce Farr An/Year: 1996 Longueur/Length: 24 m Largeur/Beam: 6.20 m Tirant d'eau/Draft: 4.20 m Mat/Mast: 36 mt Poids à vide/Empty weight 24 T Water Ballast: 2 x 5 T Electronique/Electronics: Vitesse B&G + Loch/Speedometer/Depth sounder Sondeur wind vane anemometer +/Windspeed Repetiteurs NAV. Table/Chart display + GPS traceur + GPS + plotter/pc + pc: Autopilot Autohelm Gréement VHF/Rig Mast/Mast: Carbon/Carbon Boom Bome Bout-dehors/Spinnaker pole: Carbon/Bandar halyard: Spectra/BPO Voiles/Sails: Kevlar-Carbon 1 Grand-voile/Mainsail Jib 7/Foc/Flake/Genoa 4 Asymmetric spinnaker Spi 1 de tête/Masthead spinnaker/Asymmetric Tourmentin Storm jib/Stay Sail.
Accastillage/Deck fittings: Lewmar Cale-pied/Toe rails Filet avant/Forward netting: Spectra/BPO Compas de route/Compas Riviera Guindeau/Windlass: NO Table de cockpit/Cockpit table: NO Echelle de bain/Transom ladder: NO Moteur/Engine Volvo Penta diesel 150 Hp Batteries de démarrage/Starting batteries Réservoir essence/Fuel tanks Electricité/Electrichal Batteries de bord/Batteries Tableau électrique/Switch panel Coupe circuit/Circuit breaker Ligne de quai/Shore line Aménagements/Accommodation Cabines/cabins: 14 1/1 WC/toilet Cuisine/single couchette Galley Stainless/stainless 2 feux 2 burners: boat in good condition.
the sale price does not include the agency fee.
Expand Tab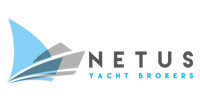 Via Marconi, 5 Milano (Milano) - Italy
Used boat
Mistral-composite Maxi one farr 80
This tab contains automatic translations.
Tutti i dati presenti nell'annuncio Mistral-composite Maxi one farr 80 sono stati inseriti direttamente dal venditore Netus Yacht Brokers
Photographs, trademarks and any information protected by copyright of their respective owners. The published data onannouncement of the boat, are not intended to constitute part of an offer or contract. Data are believed to be correct but not guaranteed. Announcement updated: 11.22.2017