Italy, Friuli Venezia Giulia
39.37 ft
x
12.93 ft
VOLVO PENTA 2 x 300 HP Diesel
129,000 €
USATO
Italy, FRIULI VENEZIA GIULIA
32.78 ft
x
11.15 ft
YAMAHA 1 x 9 HP Gasoline
HULL FULL CARBON EPOXY IW INFUSION. WELDOX STEEL STRUCTURED KEEL WITH TORPEDO IN LEAD AND EPOXY FINISH WITH CNC MILLING. HALLSPARS CARBON MAST AND BOOM. CARBON FIBRE BOWS...
160,000 €
Imbarcazioni del cantiere
Shipyard Comar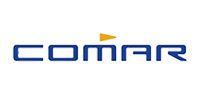 Consulta tutte le barche disponibili del cantiere Comar
USATO
Italy, FRIULI VENEZIA GIULIA
41.80 ft
x
12.86 ft
LOMBARDINI 1 x 40 HP Diesel
110,000 €
USATO
Italy, Friuli Venezia Giulia
24.48 ft
x
8.53 ft
Mercury 1 x 220 HP Gasoline
Beautiful well kept, spacious BOAT 2007 Scarani of sunbathing areas. only used for day trips.
33,000 €
NUOVO
Italy, Friuli Venezia Giulia
36.09 ft
x
16.73 ft
Volvo Penta 2 x 220 HP Diesel
Ready to buoy 2017 List equipment:-Two tagliacime-second command windlass with chain-outdoor cushions-tents dinette with blinds-N° 1 electric toilet-220V electrical outlets-Fu...
399,000 €
USATO
Italy, Friuli-Venezia Giulia
41.01 ft
x
9.84 ft
VOLVO PENTA 2003 T/M52B 1 x 45 HP Diesel
120,000 €