20 photos
Giorgi 46 Used
Category

Motor boats

Typology

Aft Cabin

Year
1988
Size
46.52 ft x 13.78 ft
Engines
CATERPILLAR 2 x 385 HP Diesel
Visible
Italy, LIGURIA
Request

103,446 $

95,000 €

VAT included

INDOOR KITCHEN WITH HOT PLATES; OUTDOOR KITCHEN WITH GAS STOVE; FULL COCKPIT AWNING TWO DOORS SLIDING ON BALL CARTS; 2006: landed GENERAL MOTORS for RECONDITIONING and replace OIL SUMPS; 2010: AWNINGS, CANOPY, with DIGITAL TERRESTRIAL TV ANTENNA; The BOAT is ashore by 2011; MEDIATION BORNE BY BUYER ON THE FINAL PRICE D? PURCHASE 5% + VAT; sheet code: 15533.

5% + VAT will be charged to the buyer. Inventory number 15533.
Expand Tab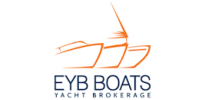 Rue de l'Ile Pointiare, Z.I. de Cheviré 44101 Nantes (Loire-Atlantique) - France
Used boat
Giorgi 46
This tab contains automatic translations.
Tutti i dati presenti nell'annuncio Giorgi 46 sono stati inseriti direttamente dal venditore E.Y.B.
Photographs, trademarks and any information protected by copyright of their respective owners. The published data onannouncement of the boat, are not intended to constitute part of an offer or contract. Data are believed to be correct but not guaranteed. Announcement updated: 03.28.2017