Beneteau Oceanis 473 clipper

Category

Typology

Length

Beam

Constr. year

2006

Charter starting from

SESSA MARINE's story is the story of a family who, generation after generation, carries forward the vision of excellence of its brand and its products. Born in 1958 and soon evolved from the plastics molding applications of polyester resin reinforced with glass, SESSA MARINE, enters the nautical sector in 1968 as a manufacturer of boats.
Interiors
Cabins: 4 DOUBLE
Bathrooms: 3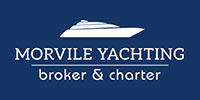 Via Cesare Battisti 15 Corso Appio Claudio 67 004022 Fondi (Latina) - Italy
+39 0771 512512 +39 335 8379954
Dettagli generali sulla barca
Beneteau Oceanis 473 clipper
This tab contains automatic translations.
Tutti i dati contenuti nella scheda della Charter Beneteau Oceanis 473 clipper sono stati inseriti dal venditore Morvile Yachting
Logos, photos and all copyrighted information belong to the legitimate owners. The published data are not intended to constitute part of an offer or contract and are believed to be correct but not guaranteed. Last update of the card 03.12.2019